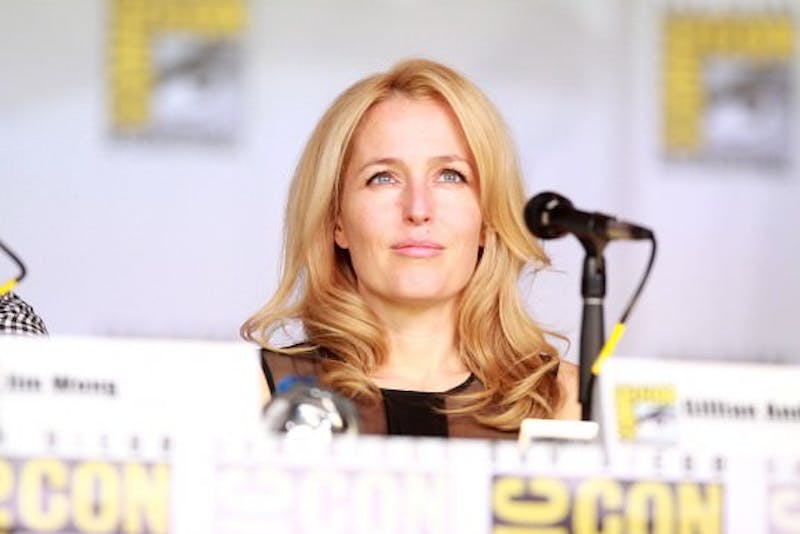 Image Source: https://commons.wikimedia.org
Known for the fantastic role she plays in the TV Series The X Files, Gillian Anderson has had to deal with some rather nasty jibes and rumors claiming that she has had to have had plastic surgery performed in order to still look so much younger than her co-star David Duchovny.
Back after 15 Years
The 47-year old star is once again playing the part of Dana Scully in the series and while many fans have praised her appearance, others have taken to various social media platforms after the first episode had aired to mock various aspects of her appearance. This comes approximately 3 years after she had mentioned to a Telegraph reporter in 2013 that she had considered the option of plastic surgery, and had said, "Plastic surgery does cross my mind. I remember a couple of years ago looking in the mirror when I was putting on make-up for a play, I noticed some changes."
Nasty Comments on Social Media
One Twitter user stated, "Unfortunately, the creepiest thing about the new X Files is Gillian Anderson's expressionless, Botox-filled face." Another said, "Loving the return of X Files even if Scully physically can't move her face, is she happy, sad, skeptical, nostalgic?! Who knows." Yet another Twitter user mentioned, "The aliens clearly implanted a LOT of Botox in Scully's face…" Someone else mentioned, "Gillian Anderson's face does not move, that's an impressive amount of surgery," and another tweeted, "That is a ridiculous amount of Botox Scully."
Admiring Other Actresses
While speaking to the Telegraph reporter, Anderson also said, "There was a period of time thinking, 'surely something can be done without having to be cut into?' Then eventually you think, 'oh, there's not.' But I'm very aware the women I admire in the public eye don't do anything. Judi Dench, her beautiful face, and Charlotte Rampling, there are so many women who have allowed themselves to get old naturally, and the fact is you can always tell when something's been done. I'd like to get to the point where I would look in the mirror and not feel bad but celebrate the natural process, rather than give the impression that something's wrong."
Praise more Important than Criticism
Although Anderson received much criticism recently, she received just as much praise from other fans, many of which stated how "hot" she looks now. One ardent fan tweeted, "Gillian Anderson is still hot as Dana Skully [sic] in x-files 20 years later." Another claimed, "Ok new X Files was sick & Scully looked hot," and yet another supporting viewer mentioned, "Mulder has aged and Scully got HOT ha ha xxx." Comments like these go to show that regardless of whether Anderson has had surgery or not, she will always have a base of devoted fans.
When it comes to having plastic surgery performed, the final decision should be up to the patient – in this case, Gillian Anderson. Whether she – or anyone else – wants to have surgery, or has already had it performed, should be of no concern to anyone else out there. Everyone should have the freedom to choose whether they want to go under the knife and not have to worry about anyone else's responses afterwards.