Find The Perfect Skin Care Regimen For You
As the largest organ you have, it is important for you to take special care of your skin. But how? The key is knowing your skin and treating it well. At The Spiegel Center, we are here to help you recognize what your skin is telling you and how to take care of it well.
A proper skin care routine is vital to maintaining great results after receiving both surgical and non-surgical treatments at The Spiegel Center. With attention and care, your skin will look younger and healthier. Below are some of the products we often recommend to our patients.
Defenage Pro Exclusive Platinum Edition
Why try to repair old skin when you can create new skin? In 2014, two doctors studying regenerative medicine and cell biology discovered the properties of anti-aging Definsins, molecules that naturally awaken dormant skin cells and spark a wound-healing response to create visibly newer, healthier, and truly youthful NEW SKIN. Defenage's Pro Exclusive Platinum Edition offers an increased concentration of the revolutionary anti-aging formulas you love.
Noon Skincare

Noon Aesthetics uses their science-based DermShield™ technology to achieve effective and safe results with the most potent ingredients. Dr. Onir selected NOON as a cut above the rest, a brand she trusts to help achieve beautiful results. NOON's line of skincare products is backed by advanced research, specially developed to address skin concerns and achieve visible improvements and healthier, more luminous skin.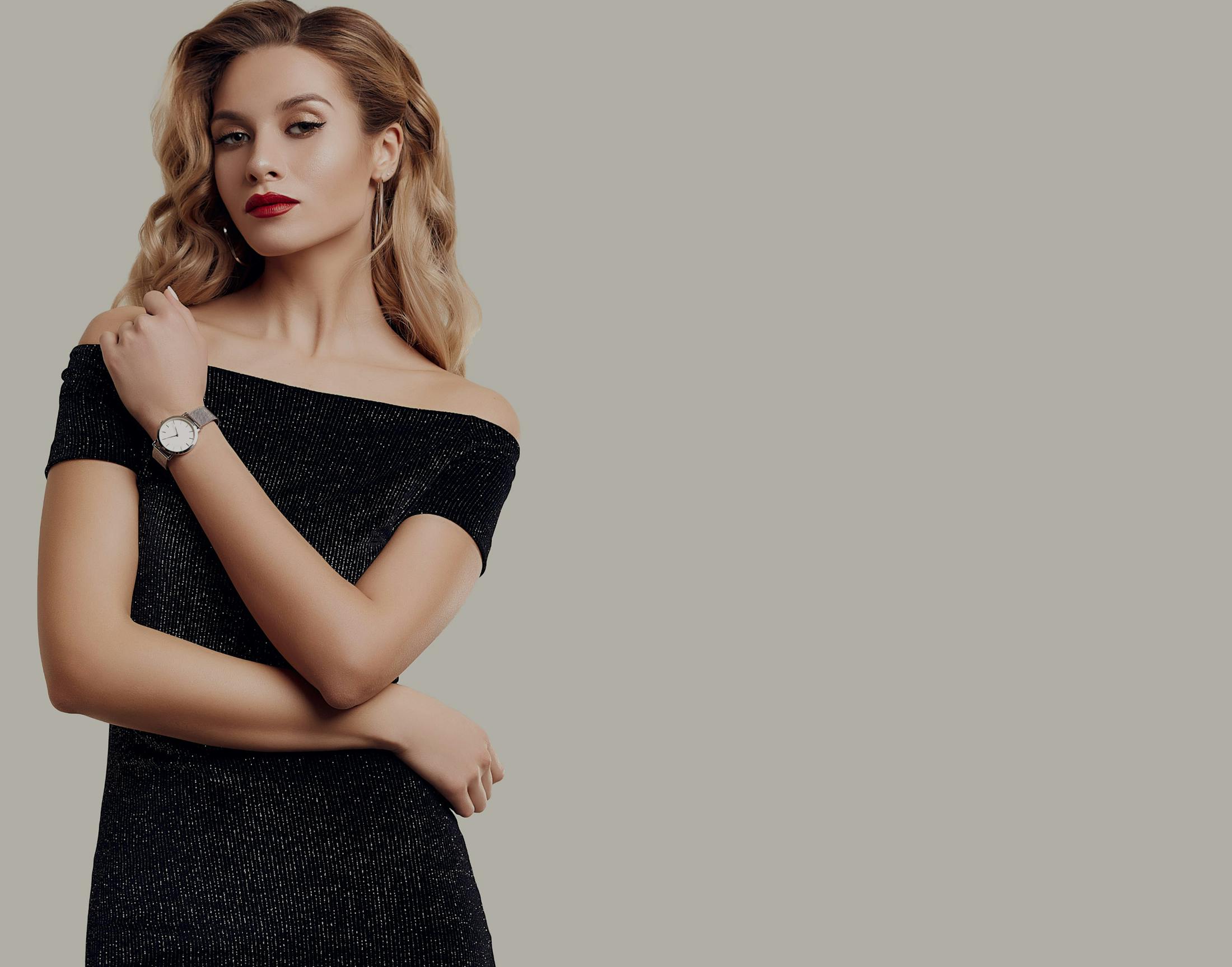 Noon: Binding Aesthetics & Science
"High Concentration, No Irritation" is the motto of Noon Aesthetics. Their DermShield™ technology keeps Noon Aesthetics' highly potent active ingredients safe and effective for sensitive skin. Handpicked by Dr. Onir, NOON's curated products are backed by advanced scientific research and developed to address specific skin concerns, ensuring optimal efficacy and visible improvements.
What sets NOON apart from other skincare lines on the market today is their proprietary DermShield™ technology, exceptional standards and quality of ingredients. DermShield technology delivers highly effective, safe and irritation-free results that are scientifically backed. This revolutionary technology greatly reduces skin inflammation while using high concentration levels of active ingredients.
NOON's innovative approach and advanced formulations have proven clinical results for various skin conditions, such as: aging, hyperpigmentation, sun damage, acne, seborrhea and sensitized skin, limiting the common side effects of other products such as; irritation, burning, redness.
Brush & Go
Oily & Problematic Skin – SPF 30
Mineral Powder for High Protection – With Dead Sea Minerals
Actions
Matte Finish
Talc Free
UVA/UVB & IR
Translucent mineral powder for immediate optimal protection against harmful UVA/UVB rays, Brush&GoTM helps to prevent sun damage such as sunburns & pigmentation disorders. It brushes on easily & conveniently anytime, anywhere. Suitable for adults & children over the age of 6 months.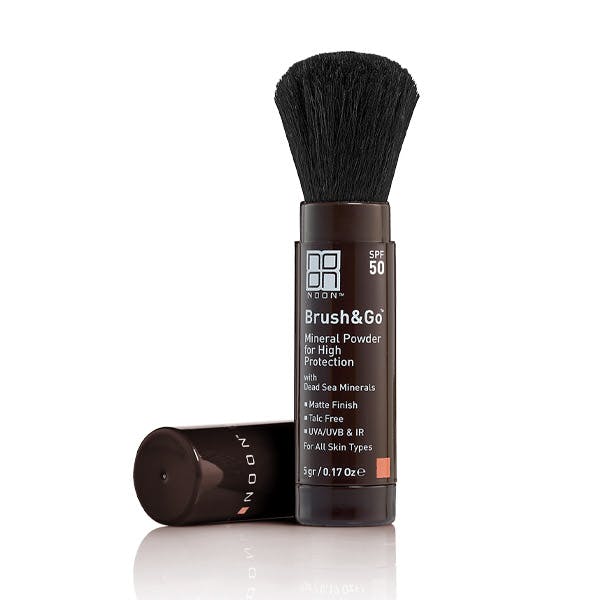 Active Ingredients
Tea Tree Oil – volatile essential oil derived mainly from the Australian native plant Melaleuca Alternifolia. Employed largely for its antimicrobial properties, Tea Tree Oil is incorporated as the active ingredient in many topical formulations used to treat cutaneous infections.
Eucalyptus Leaf Essential Oil – volatile essential oil with anti-microbial and anti-septic effects. It is a strong suppressor of cytokines that is suitable for long term treatment of inflammation.
Silver – the anti-bacterial activity of silver has long been known and is used in a variety of applications. The most widely documented uses are prophylactic treatment of burns and water disinfection.
C-Cleanser Foam
For All Skin Types
Actions
Detoxifying
Deep Cleansing
Fresh Sensation
A deep cleansing formula of C-Cleanser Foam removes excess oils and clears surface impurifies for pure, soft and supple skin.
Active Ingredients
Ascorbyl Tetraisopalmitate – an Oil-Soluble Vitamin C Derivative. Works as a powerful antioxidant and whitening agent, with both anti-acne and anti-aging capabilities.
Medxtract Chamomile – Distilled – the floral water of flowers of Chamomilla Recutita, produced by distillation. It is a gentle soothing hydrosol used to refresh and calm the skin.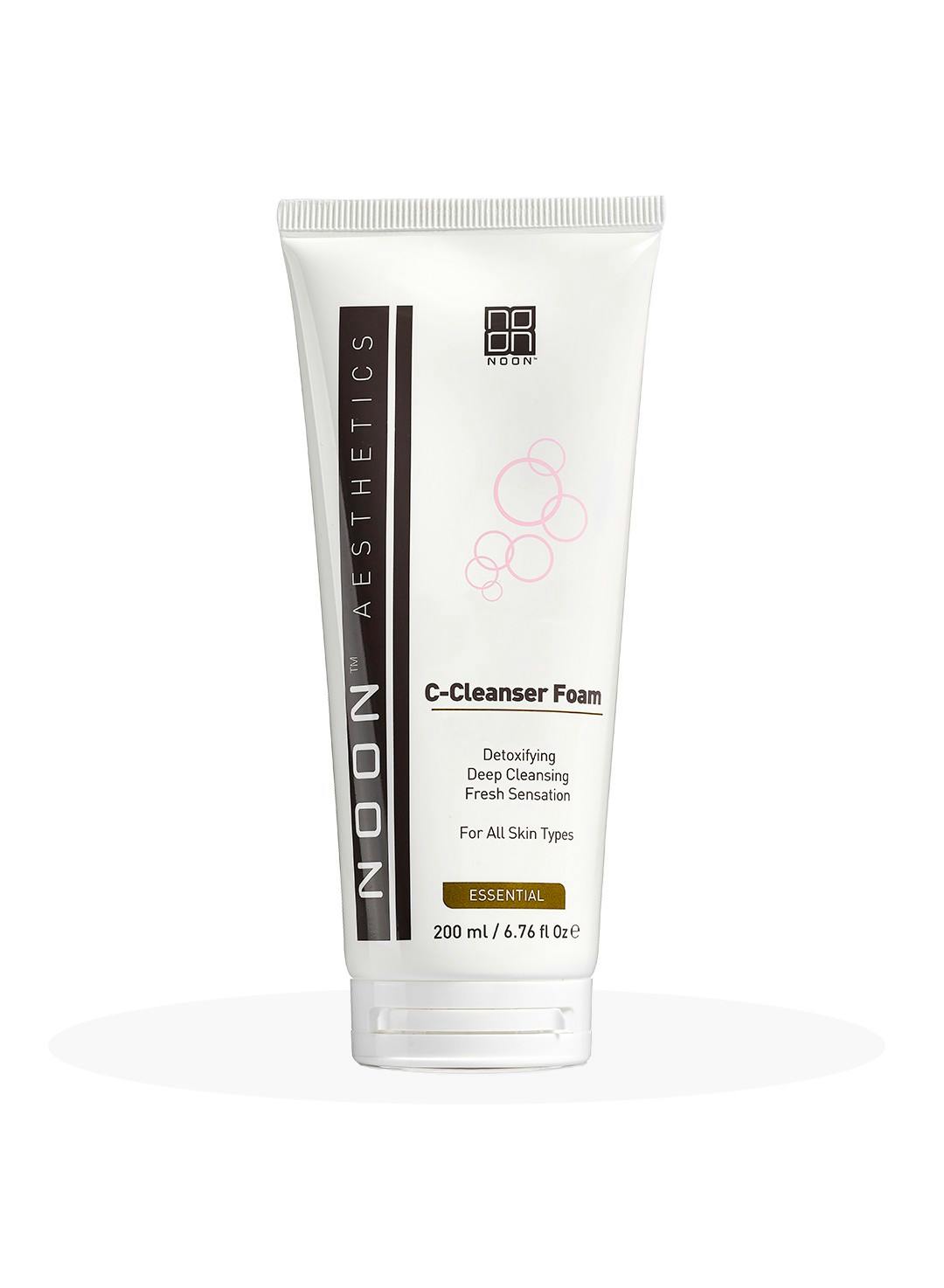 Double White
Advanced Intensive System – For Comprehensive Whitening Treatment
A Vit C Serum 11s + B Azelaic 20
Actions
Reduce Discoloration
Protect the skin structure from free radicals
Double White includes a combination of Vit C Serum 11S (11% of the Derived Stable Vitamin C), Azelaic 20 (Azelaic Acid 20%) and Alpha Arbutin (5%). This powerful blend helps reduce discoloration, evens out skin tone and protects the skin structure from free radicals. The additive DermShieldTM allows use of the cream without causing irritation.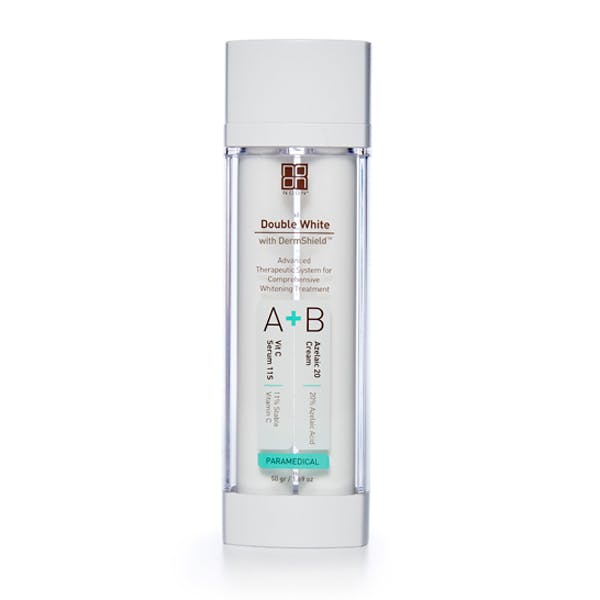 Active Ingredients
1) A:5% Ascorbyl Glucoside is a natural Water-Soluble Vitamin C (Ascorbic Acid) stabilized with glucose. This combination allows the benefits of Vitamin C to be achieved conveniently and effectively. Ascorbyl Glucoside prevents pigmentation of the skin by suppressing melanin synthesis in melanocytes. In addition, it has the ability to reduce the amount of pre-existing melanin, resulting in a lighter pigmentation of the skin. A comprehensive skin lightening solution is used not only for whitening but also for brightening dull looking skin and reversing the effects of aging. Ascorbyl Glucoside is a hydrophilic antioxidant, which works in the epidermis.
2) A: 6% Ascorbyl Tetraisopalmitate is an Oil-Soluble Vitamin C Derivative. It promotes collagen synthesis and inhibits lipid peroxidation and skin aging. Due to its defensive properties, Ascorbyl Tetraisopalmitate protects the cellular DNA from the damage caused by UVB radiation. It is stable at high temperatures and has good solubility in oils. Ascorbyl Tetraisopalmitate is a lipophilic anti-oxidant which works in the dermis.
1) B: 20% Azelaic Acid, a particularly high concentration, in combination with DermShieldTM that ensures intensive lightening without typical irritation associated with the use of Azelaic Acid. Provides skin exfoliation and regeneration.
2) B: 5% Alpha-Arbutin – one of the most stable and effective whitening ingredients available for promoting lighter, more even tone for all skin types that acts as a remarkable facilitator in the quest for brighter skin.
In Depth Filler Cream
Actions
Wrinkle Filler
Deep Moisturizer
Antioxidant
Functioning as a wrinkle filler, In-Depth Filler Peptide Cream, with the combined power of multiple age- defying ingredients, is proven to reduce the appearance of wrinkles. In-Depth Filler Peptide Cream evens out and relieves the skin, as well as leaving it deeply hydrated, elastic and toned.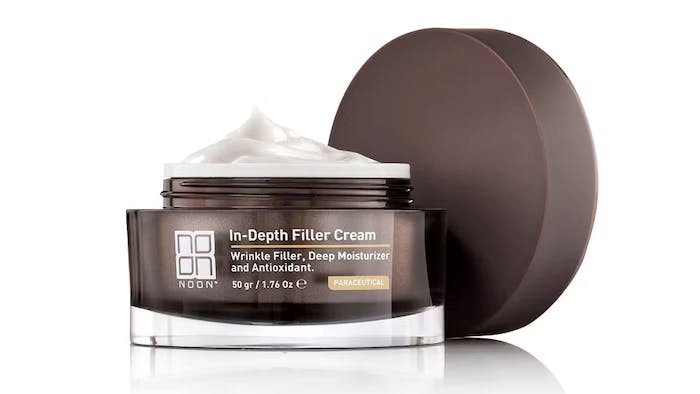 Active Ingredients
Complex of Palmitoyl Hexapeptide-14 (Granactive Hexapeptide) and Palmitoyl Tripeptide-38 (MATRIXLR synthe'6TM): Stimulator Peptides.
Palmitoyl Isoleucine (Voluform): Known for its ability to support tissue renewal, works as a natural alternative for lipo-filling. Works on multiple layers of the skin to fill wrinkles internally.
Alteromonas Ferment Extract (Exo-H): Intensive moisturizer.
Sodium Hyaluronate: Provides deep hydration.
Swertia Chirata Extract (SWT-7 H): This innovative ingredient made from Indian Gentian leaves has been formulated to help rejuvenate and thicken the skin. It has been shown to reduce the appearance of vertical wrinkles around the lip area, as well as lipstick migration by 50% – in as little as 28 days.
LactoCeramide 15
Intensive Rejuvenating & Corneotherapy Treatment
Lactic Acid 15%, Ceramide 2,3,6
Actions
Stimulates skin rejuvenation
Significantly reduces the appearance of fine lines and wrinkles
Improves water retention and barrier function of the epidermis
Increases skin density and elasticity
Blurs spots and inhibits the development of hyperpigmentation
Harmonizes nicely with other cosmetic preparations or medical ointment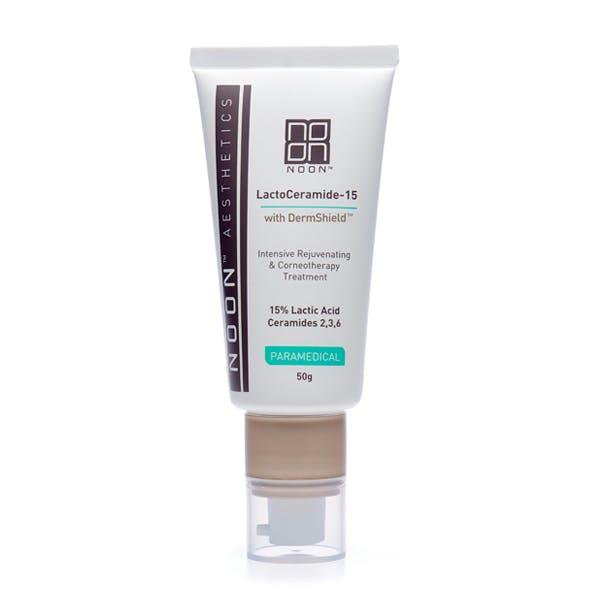 LactoCeramide-15 is particularly active for an anti-aging treatment as it is based on a winning combination of 15% Lactic Acid and Ceramide types 2,3,6. The effective combination of AHA and DermShieldTM (patent pending), allows use of the cream with all skin types, throughout the seasons and without causing irritation or a dry feeling.
Active Ingredients
Lactic Acid stimulates and rejuvenates the skin, providing significant improvement in skin texture and moisture level. It further reduces blemishes and increases skin density and elasticity.
Ceramides 2,3,6 constitute a perfect copy of the lipids found in the upper layer of the skin.
Retinol Charisma Intense
Retinol 1% – For All Skin Types
Suitable during pregnancy and breast-feeding
Actions
Reduces fine lines
Refines Texture and skin tone
Retinol Charisma Intense is an anti-aging skin booster that rejuvenates, firms, brightens and reduces fine lines. It further refines texture and skin tone.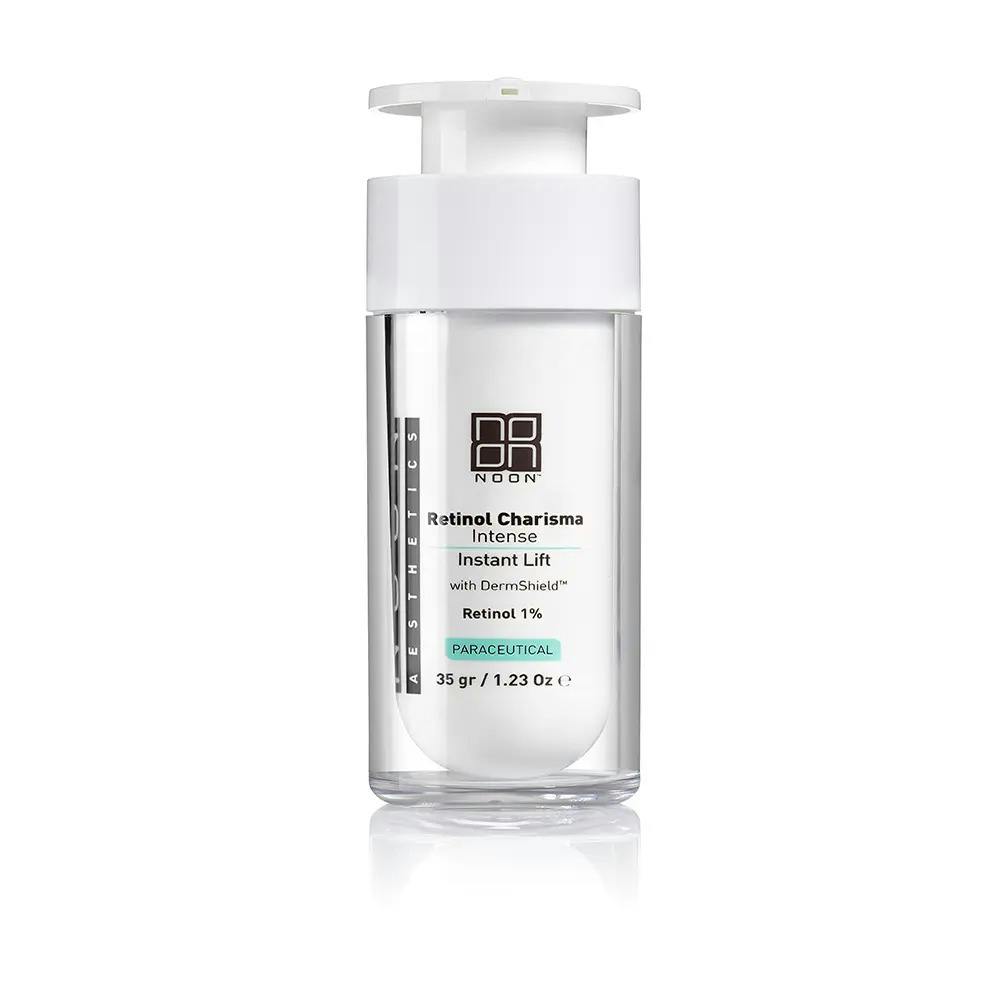 Active Ingredients
Retinol – the strongest "Anti-Aging" corrective ingredient. Retinol smooths skin texture, reduces fine lines, fights Photo-Aging, assists in whitening, balances sebum secretions, facilitates dermal reconstruction and firms the skin. A regular use of retinoids greatly contributes to the quality of the skin, reverses aging processes and increases skin turnover. An effective treatment of photo-damage requires consistent use of retinoids. The use of Retinol products with the additive DermShieldTM minimizes the sensitivity to sunlight.
Oligopeptide-68 – an innovative and unique Whitening Agent that reduces the appearance of dark spots and skin discoloration.
Leontopodium Alpinum Callus Culture Extract – Leontopodic acid, discovered for the first time in Leontopodium alpinum, has extraordinary antioxidant, radical-scavenging, and epidermal protection properties. It considerably enhances levels of key proteins which help to create and reinforce a protective 'cellular barrier' against UV damage and other external stresses.
Methyl Perfluorobutyl Ether ( Perfluorocarbon Emulsion) – a potent delivery system for non-ROS oxygen! Clinically shown to be an artificial oxygen to improve tissue oxygenation, so it can act to treat damaged skin and to reverse signs of aging.