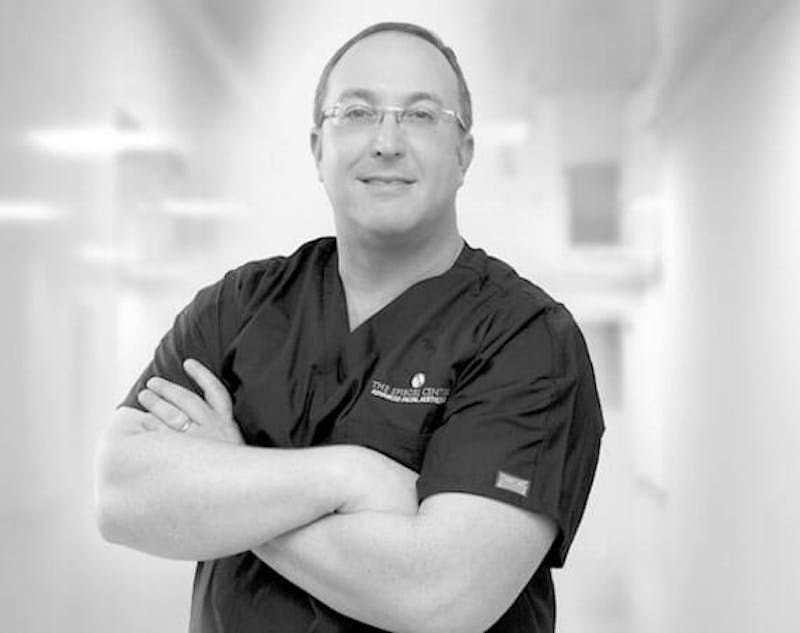 How do you find the best plastic surgeon or the most talented injector in Boston? For many, this means signing on to Google or one of the other search engines and simply entering "Best Plastic Surgeon" or maybe even narrowing the geographic area more and entering "Best Cosmetic Surgeon Boston". Unfortunately, while this will give you an indication of which practice has the best SEO consultant or the most optimized website, it may not really tell you who is the best doctor for you. Moreover, the doctor or practice that ranks best in this overall search may not be the best for the specific procedure in which you are interested.
So back to Google and now the search is narrowed even further to find the highest ranked plastic or cosmetic surgeon for Rhinoplasty (nose job), Blepharoplasty (eyelid surgery) or the best doctor at facial aesthetics such as Botox, fillers or lasers. Once again, however, while the results are very useful, the best plastic surgeon for the procedure of interest to you, may not have the best SEO results.
In order to give another approach to the process of choosing the best doctor for the specific procedure that you want, we have analyzed the 5-Star Reviews that plastic surgeons received on a number of different rating platforms. By analyzing the reviews provided by patients on RealSelf, Vitals.com, RateMD.com, Facebook and Google, it is possible to see what patients are really saying about how well providers are performing specific procedures.
To give an indicative set of results, we selected a sample of well-known plastic and cosmetic surgeons in Boston. These included (in alphabetical order): Doctors Richard Bartlett, Jeffrey Darrow, Sean Doherty, Samuel Lin, Leonard Miller, Joseph Russo, Sumner Slavin, Jeffrey Spiegel and George Volpe.
Table 1: Total 5-Star Reviews by Plastic Surgeon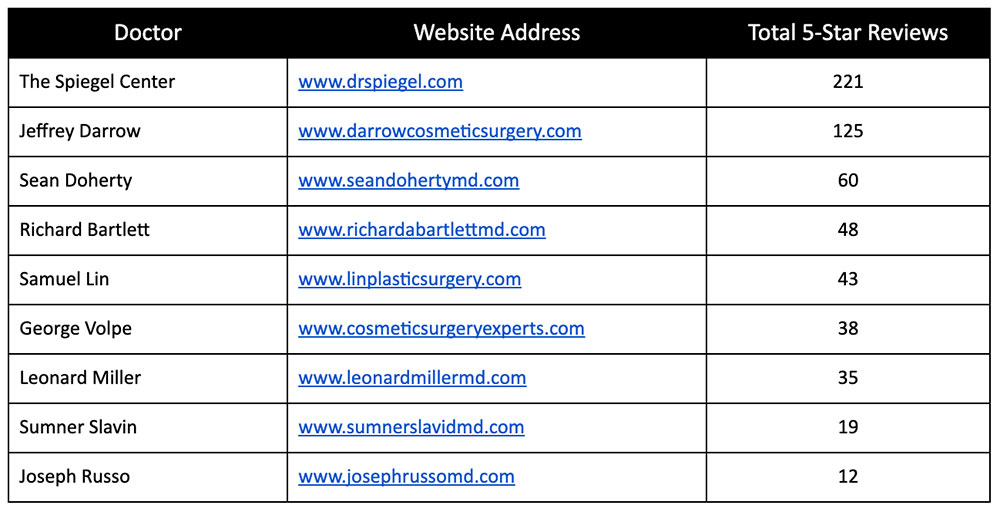 We also picked the most popular facial and body plastic and cosmetic surgery procedures:
Facial – Blepharoplasty, Rhinoplasty, Facelift, Neck Lift, Lip Lift, Chin Surgery, cheek surgery, Otoplasty, , and Facial Feminization. Injectables – Botox, Injectables – Fillers, Facial Laser and Microneedling. The tables below show the total number of 5-Star Reviews for each procedure by doctor.
Body – Liposuction, Mommy Makeovers, Tummy Tuck, Breast Augmentation, Breast Reduction, Gynecomastia, and Butt Enhancement. The table below shows the total number of 5-Star Reviews for body-related procedures.
All five-star reviews from each of the five different rating platforms were copied for each of the plastic surgeons. At this point, two problems were encountered. First, many reviews were not procedure specific or had no comment at all – just the number of stars. Many of these reviews that were not specific said things like – I love this doctor or great practice. As a result, we only considered reviews that were specific to a procedure. Second, in many cases there were duplicate reviews on different platforms. That is, the review was simply copied and pasted on a different platform. As such we only counted, a review once. For example, Richard Bartlett had no duplicates, Jeffrey Darrow had 14 duplicate reviews, Sean Doherty had two duplicate reviews, Samuel Lin had 19 duplicate reviews, Leonard Miller had six duplicate reviews, Joseph Russo had one duplicate, Sumner Slavin had two duplicate reviews. Jeffrey Spiegel had 10 duplicates and George Volpe had no duplicate reviews.
Table 2A: 5-Star Reviews by Facial Procedure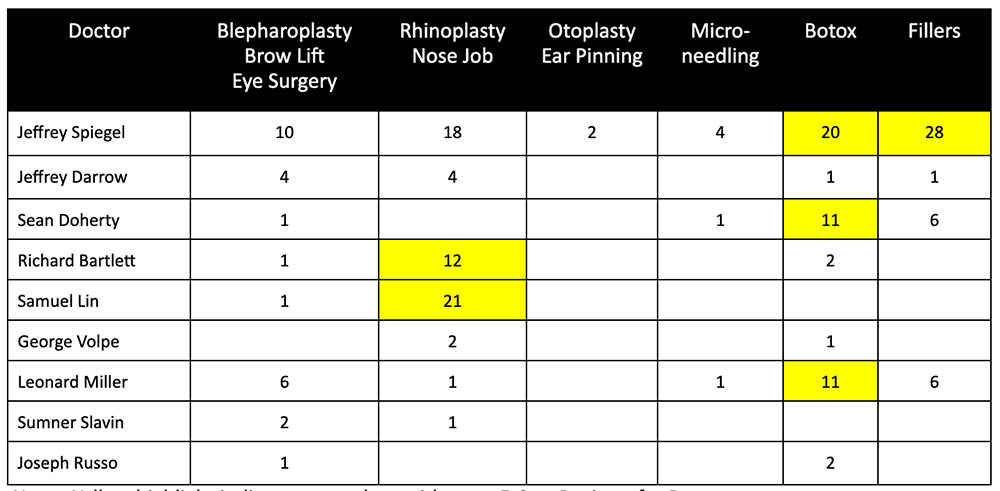 Note: Yellow highlight indicates procedure with most 5-Star Reviews for Doctor
Table 2B: 5-Star Reviews by Facial Procedure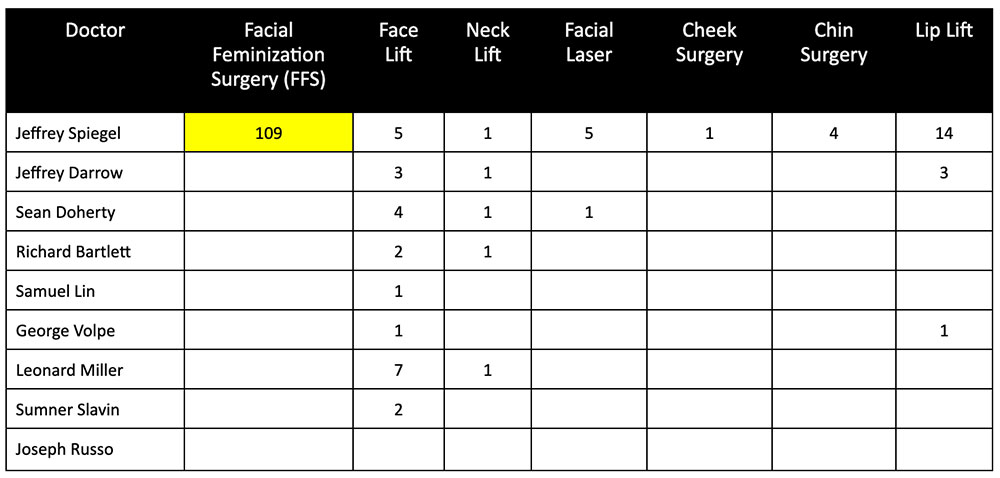 Table 3: 5-Star Reviews by Body Procedure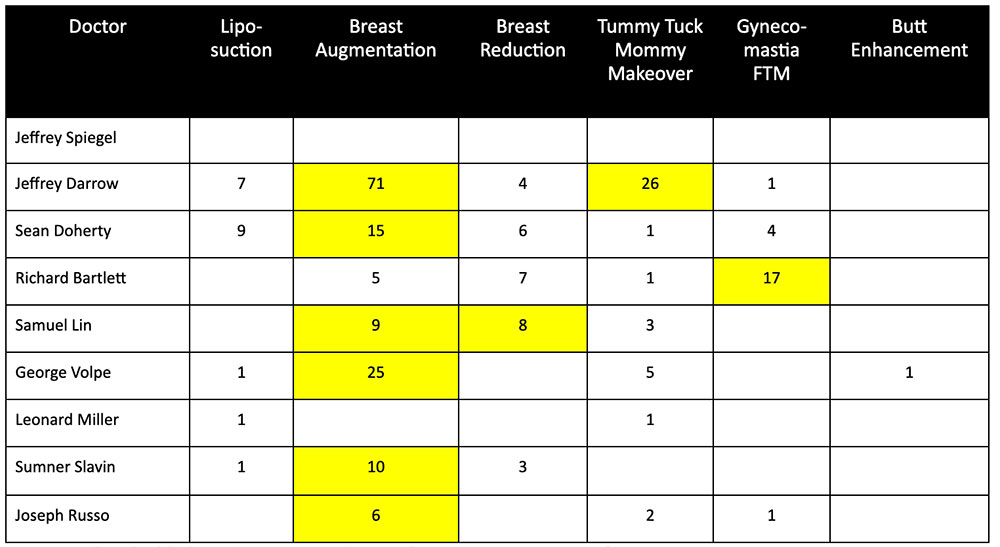 Note: Yellow highlight indicates procedure with most 5-Star Reviews for Doctor
In analyzing the 5-Star Reviews of these plastic and cosmetic surgeons, what did we find (see Tables):
The total number of procedure specific five-star reviews varied tremendously among these doctors – ranging from 12 reviews to 221.
Most doctors received less than 60 5-Star Reviews in total (7 of 9).
Two doctors were head and shoulders above the other seven – Jeffrey Darrow (125 5-Star Reviews) and Jeffrey Spiegel (221 5-Star Reviews).
The reviews suggest the primary focus of the plastic surgeon's practice, in part indicated by the preponderance of reviews in one or two categories:

Jeffrey Spiegel – Facial Plastic Surgery (such as Rhinoplasty, Face Lift, Blepharoplasty, and Facial Feminization Surgery) and Injectables
Jeffrey Darrow – Breast Augmentation and Tummy Tucks
Sean Doherty – Breast Augmentation and Injectables
Richard Bartlett – Rhinoplasty and Gynecomastia (FTM)
Samuel Lin – Rhinoplasty, Breast Augmentation and Reduction
George Volpe – Breast Augmentation
Leonard Miller – Injectables – Botox
Sumner Slavin – Breast Augmentation
Joseph Russo – Breast Augmentation

The most striking results are those of Jeffrey Spiegel, who has received:

Up to almost 20 times more 5-Star Reviews than other doctors in the sample and almost double the plastic surgeon with the second most 5-Star Reviews (221 vs. 125)
More 5-Star Reviews for most facial aesthetic procedures than any of the other doctors
Number 1 position in total 5-Star Reviews in Blepharoplasty, Lip Lifts, Microneedling, Injectables – Botox, Injectables – Filler, Facial Laser and all facial restructuring surgery included under Facial Feminization
A general overall conclusion of this research suggests that as a potential patient searching for a plastic or cosmetic surgeon that it would be worthwhile to look not only at Google or other search engine results for your local area, but to examine the reviews that the highly searched ranked providers have received from their patients. It is clear that while a plastic surgeon may be highly ranked overall, (e.g. Leonard Miller – number 11 on Google search), they may not have many 5-Star Reviews directly related to the procedure in which you are interested. On the other hand, a provider that is not as highly ranked on overall search (e.g. Jeffrey Spiegel – number 20 on Google search) has more 5-Star Reviews on facial aesthetic categories by far than the other providers examined. Look carefully at the reaction of their patients across any and all of the procedures in which you may be interested.
About the Author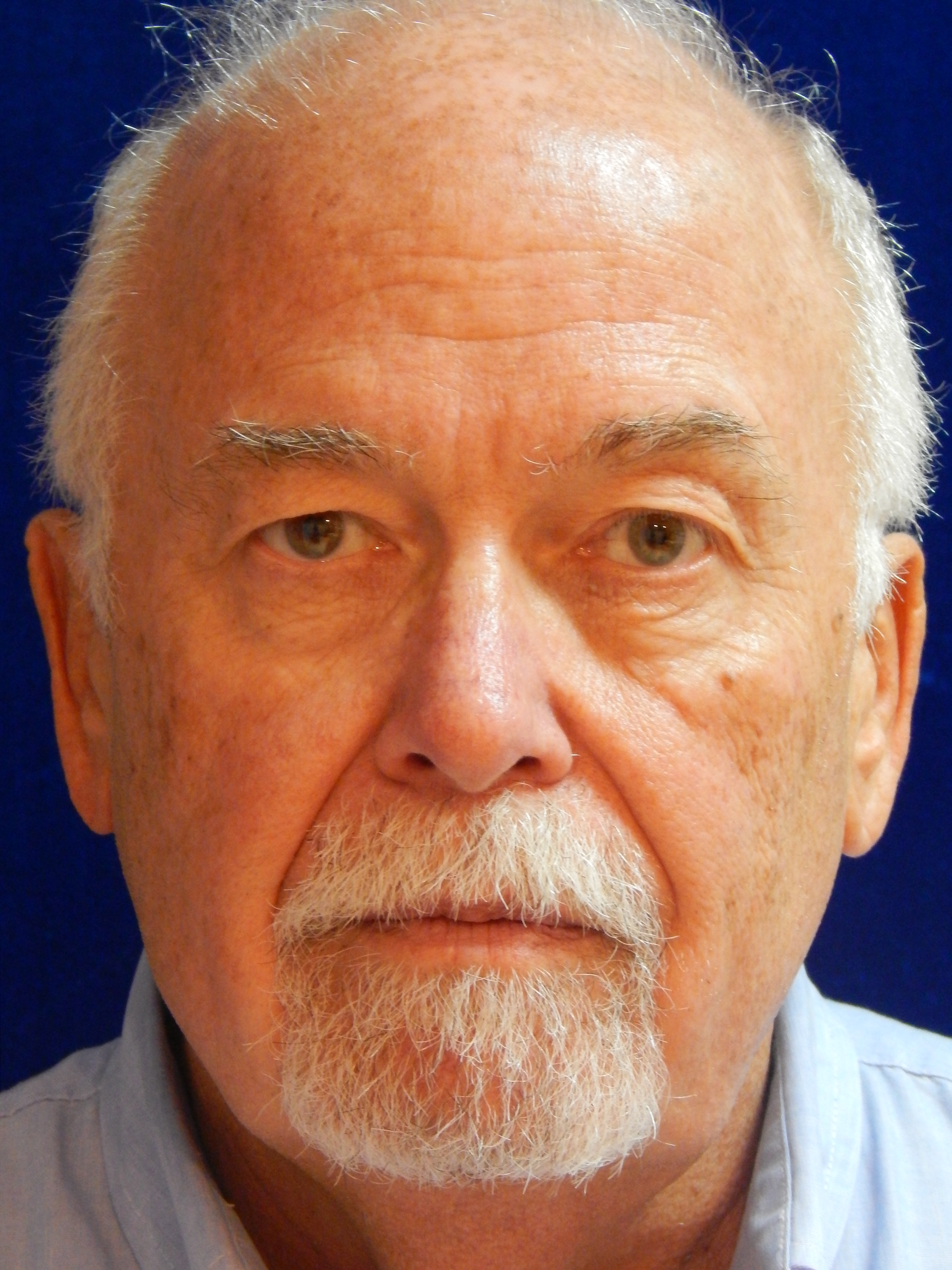 John C. Anderson Ph.D. is a former professor of management at UCLA, Queen's University (Canada), Columbia, Cornell and University of Colorado, Boulder teaching organizational behavior, entrepreneurial marketing, business strategy and research methods to graduate students. As President/CEO and Founder of International Strategic Marketing Inc. (1990), Anderson has help to incubate and develop start-up companies in the financial services, apparel, music, medical spa, plastic surgery and luxury industries.