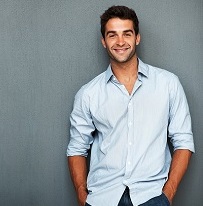 A scalp advancement surgery is also known as a hairline lowering surgery. It helps people who are suffering from hairline recession and can lower the anterior hairline by 2-3 cm. It also benefits the temporal area, although not as much as the anterior portion.
Scalp advancement surgery is a common technique adopted to bring more balance to the face. When the level and shape of the hairline is changed, the face appears more balanced and youthful.
The degree to which your hairline can be altered depends on the height of your existing hairline and scalp laxity. If the patient has satisfactory hair and scalp qualities, the scalp advancement surgery will give exceptional results for hairline restoration sooner than hair transplantation.
You can choose to have both the procedures combined if your hair recession problem is serious enough. However, it is recommended that the procedures are done six months apart for the best results.
Facial surgical techniques such as scalp advancement, brow lift, and forehead contouring are often all carried out together as they share the same incision. The procedure can be done in conjunction with these other techniques in order to achieve a significant improvement in one's look.
The Scalp Advancement Procedure
An incision is made along the existing anterior hairline which curves upwards, in such a way that the scar is hidden by the hair-bearing scalp. The scalp is then lifted partially or entirely and the fascia beneath is loosened by surgical intervention.
When the scalp becomes more elastic, it is stretched in an anterior manner to lower the hairline. Absorbable stitches/surgical plates and screws are used to secure the position of the anterior hairline. The incisions are then stitched together carefully with minimal scarring.
Why is Hairline Lowering/Scalp Advancement a Part of Facial Feminization Surgery?
The way your face is framed can sometimes indicate your gender. A masculine hairline is typically stretched back on the skull whereas a feminine hairline starts early from lower down on the forehead. A stronger well-defined forehead is often associated with masculinity and a rounded face thought to be more feminine.
Hairline lowering surgery is often performed as part of facial feminization procedures in conjunction with other surgical operations to reduce the height between the eyebrows and hairline and effect a more traditionally feminine appearance.
Surgical Aftercare
A scalp advancement does not result in post-surgical pain or discomfort. There might be some facial swelling in the eye and forehead area but it usually subsides within seven days. The patient who undergoes the surgery can opt to take a week off from work but will be able to participate in light activities after a few days after the surgery.
More strenuous activities should be avoided for some time to limit the chances of any accidents occurring. You may experience numbness around the scalp or eyes, but there's no need to worry. The numbness will gradually subside after a few months.
If you have recently undergone a surgical procedure that you have not fully recovered from, then it is recommended that you wait some time before undergoing a procedure such as this one. Your doctor will advise you on the steps you should take leading up to the surgery during a consultation.
Contact Our Office
If you would like to learn more about the scalp advancement surgery from a skilled plastic surgeon like Dr. Jeffrey Spiegel, contact our office to schedule your consultation today. As a facial plastic surgeon with many years of experience, you can feel confident knowing that you're working with someone who truly cares about your end-result.